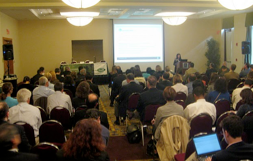 We've excited to announce our next Groom Energy seminar, entitled Green Enterprise 2010, which will be held April 15th at the Embassy Suites Hotel near Boston's Logan Airport.
As with our previous seminars our target audience remains corporate energy and sustainability managers who wish to hear and discuss best practices, case study based observations.
Last year our first two seminars had a direct focus on the emerging market for Enterprise Carbon Accounting (ECA), a market we had identified and about which we published research. Our February 25th Boston ECA event featured Mindy Lubber from Ceres who likened climate impact to an off balance sheet risk which should be disclosed by public companies. Our follow-on May 14th San Francisco ECA event was highlighted by a practical case study panel with presentations from Applied Materials, HP, Intuit and Sony.
Then in September 2009, we delivered a broader sustainability oriented seminar including a special Wal-Mart Supplier Workshop followed by our Greening The Supply Chain event the next day. This featured a keynote speech by CE-Yo Gary Hirshberg, who described Stonyfield Farms' long standing commitment to reducing all aspects of their climate impact, which began way before being green was cool…
Our April 15th agenda has the broadest agenda yet. Over the last year, as we've dug deeper with our customers and seminar attendees, we've found that many corporate sustainability managers now have cross-functional responsibilities. These managers may move from one meeting on green product design to a review of their energy usage or to a session focused on engaging their own employees for their own green efforts.
With all this in mind we've designed an agenda that touches on as many of these areas as possible – all wrapped into one day. We're looking forward to seeing everyone there!