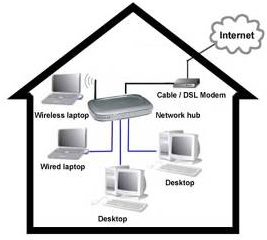 Of course the conventional view is that the smart grid market will be "huge" – and the target for smart grid today is squarely on the residential market. So it shouldn't be missed that within days of each other both Google and Microsoft killed their initial home energy software applications.
First came Microsoft, shutting down their Hohm effort, saying "due to the slow overall market adoption of the service" they would focus instead on the commercial market. Then came Google announcing it was stopping support for PowerMeter, their consumer home energy visibility tool, saying it had "not scaled as quickly as we would like."
This is not the first time a high tech company has overestimated the adoption rate for home networking and software applications. And the reason for the overestimate is similar to earlier miscues.
Home networking is hard.
When a consumer needs to plug hardware from one company into software from another, things get tricky. It's the reason why most homeowners still don't have their home printers hooked up to Ethernet. It's why Apple's Airport Express is mostly used for a single application; rebroadcasting iTunes.
Unless it works out of box with a plug, home networking system integration projects are only for serious DIYers. Not to say there hasn't been progress with early smart meter rollouts to the home, but the facts are today it's still very early.
Even a programmable thermostat is too hard for the consumer, so Comverge has found a way to turn this into a utility DR delivery business. Unless the utility pays for and implements early home networking apps on the backs of their initial smart meter rollouts, adoption in the home will continue to move very slowly.
At least Microsoft says they're focusing now more on commercial market applications, a practical shift for them. Businesses have IT and facility managers. They can deal with hardware and software integration projects – directly or by using outside service providers as they do already.
And the bulk $ savings for energy application networking in businesses is more significant – which makes the pain of figuring out which plug goes into which box more worthwhile.