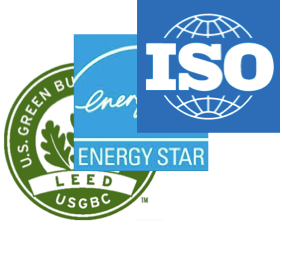 Several years ago Leadership in Energy and Environmental Design (LEED) was all the rage.
CEO's got pictures taken in front of their newly constructed LEED Platinum corporate offices. Retailers reported higher foot traffic in newly constructed LEED certified stores. The USGBC even extended their brand by introducing LEED-EB so companies could certifiy their current real estate portfolio to the green standard. The LEED brand reinforced the "this company is green" image and, in case anyone forgot, a plaque at the building's entrance reminded people everytime they entered.
Post the 2008 market collapse we saw customers quickly drop their LEED efforts, focusing instead on Energy Star building certification. The Energy Star brand is an even more visible green brand, they were already using portfolio manager as part of the LEED process, and the certification process would likely yield real energy savings, a financial payback from the certification process. It was a natural shift – plus they still got a plaque.
With ISO's recent introduction of its 50001 Energy Management standard we'll can speculate that this brand may now also be gaining a greener image.
Today the ISO brand is most uniquely associated with quality managment. It's programs are embedded as part of large global manufacturers' culture, with many corporations proudly displaying their ISO 9001 certificate in the lobby of their headquarters. So its not a surprise that the ISO 50001 pilot program included companies like Alcoa, Bridgestone, Schneider Electric and Volvo. And it doesn't hurt that the DOE is throwing its support for the standard as well.
As we've seen with sustainability reporting like the Carbon Disclosure Project, the next lever for ISO 50001 may come as it gets included within RFPs, supplier certifications and international trade contracts.
And when that happens make room for another plaque at the corporate headquarters.
via Like LEED and Energy Star, Can ISO 50001 Become A Green Brand? | Enterprise Smart Grid.