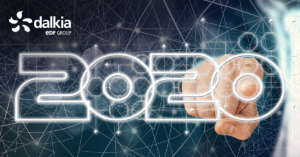 For the first official time, here it comes… Happy New Year from Dalkia Energy Solutions! We are extremely proud to ring in 2020 with a greeting that, well, has a pretty great ring to it. October 2019 marked our formal introduction as the U.S. division of Dalkia, a subsidiary of France-based energy giant EDF Group, defining the excitement and historic evolution we experienced over the course of 2019—a year that reenergized us for more to come.
What's in
a name?
Since its founding in France in 1937, Dalkia has focused on delivering efficient, cost-effective solutions and services for managing building energy systems, quickly earning a solid reputation for reliability and expertise. Having become part of the internationally renowned EDF Group in 2014, Dalkia today is the flagship of EDF's energy services around the world.
Meanwhile, as an industry leader here in the states, Groom Energy also was busy delivering comprehensive building energy solutions for commercial, industrial and institutional facilities. In 2016, Groom joined the EDF family as Dalkia's U.S. division, forging a beneficial new relationship that would allow us to bring access to even more energy partners. Though we've been doing just that ever since, our recent renaming serves to solidify our new union—bringing with it a stamp of global industry excellence.
The power of partnership
In 2018, Dalkia had further expanded its reach and product offerings in the U.S. with the acquisition of Aegis Energy Services, another Massachusetts-based energy efficiency leader. Already the top manufacturer and supplier of combined heat and power (CHP) systems to commercial and residential customers in the Northeast, Aegis is now the exclusive provider of CHP solutions to Dalkia customers in North America.
Aegis has proven more than a welcome addition to the EDF family; specializing in one of the most valuable energy solutions available, Aegis provides a key piece of Dalkia's comprehensive service offerings. Together, we are able to tailor smart solutions for each building, each city, each territory and each industrial site to help our customers meet the challenge of a total energy transition.
Highlighting the effectiveness of this integrated, collaborative approach, we recently completed a large-scale project for Great Wolf Lodge New England in Fitchburg, Mass., a popular family resort that sees an estimated 650,000 visitors annually. Having already implemented energy solutions in nine other Great Wolf Lodge resorts throughout the country, Dalkia Energy Solutions developed an end-to-end building energy plan for the New England location, implementing and providing support for a range of facility-wide energy improvements. These included building energy software, LED lighting improvements, water conservation devices, HVAC upgrades and, with Aegis's expertise, on-site electricity generation with a CHP unit.
Once these improvements were in place, Great Wolf Lodge New England immediately began to realize savings on electricity, natural gas and water bills, savings that will inherently continue with each year. This success story, which we showcased at VERGE 19 in October, epitomizes the incredible possibilities that come with partnerships that work.
Now and next
With our new name and structure came the launch of our new website, through which we look forward to providing thorough, easily accessible information and tools in the new year and beyond. As you explore the site, we invite you to check out our recently produced, which offers an engaging and insightful overview of our unique enterprise.
Nothing about our passion, forward-thinking strategies or longtime dedicated service has changed; we're simply stronger for our energy partners. We continue to research, innovate and plan, fully embracing the new relationships that will allow us to offer more impactful sustainability projects than ever before. There's no better time than the start of a year to begin your more resilient energy future—and ours starts today.