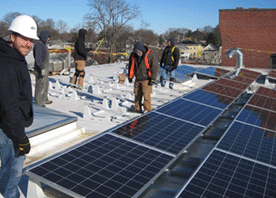 Today I'm attending and speaking at the SolarTech Conference in San Ramon, CA.
The conference format broke the day into working sessions covering all major areas relating to Solar PV: permitting, finance, installation, interconnection, and a new one for the market – energy efficiency (which I'll come back to later). At the end of the day, the entire audience voted on the key initiatives for each of working session and these rankings become the basis for 2010 SolarTech working agenda. Makes great sense.
During her keynote Jeanne Clinton of California PUC's Energy Division detailed how far CA has come in reaching over 500MW of total installed PV in 2010. Most interesting was her description of "medium sized" PV programs being implemented by the big three CA investor owned utilities (PG&E, SoCal, SDGE) for locations such as large commercial rooftops.
These medium sized PV projects range from 1MW to 20MW in size. Wow.
Only a few years ago Google's 1.6MW PV array made national headlines and Nellis Air Force Base went live with a 14MW installation – both now are considered ho-hum. Edwards Air Force is now developing a 550MW installation (the same as today's entire PV installed base in CA) and there are already worldwide projects targeting over 1GW installations. Clearly the solar industry is capitalizing on utility, state and government interest in making politically correct green investments on a large scale!
On the demand side Jeanne talked about how both PV and energy efficiency need to be considered during any building retrofit and how the CA/PUC is pushing PG&E, SoCal and SDGE to scale their whole building assessment offerings to address this.
Later discussions noted that as PACE funding models continue to rollout across the country, they're including similar requirements that participants must have implemented energy efficiency retrofits prior to adding solar PV – this issue clearly had everyone's attention at the conference.
For the solar industry this seems unfair – their point is that energy efficiency retrofits (such as new windows) often have longer investment returns than adding solar PV, yet these projects would be required first.
For the energy efficiency industry this seems fair – counterpoint being the financial return of solar is only achieved through much larger relative tax and financial incentives, and hence the real social investment return still favors energy efficiency investments.
Which points yet again to the challenge faced in designing energy related incentive programs. When offering their rebates, Utilities, States and the Federal Government need to be absolutely certain on what behavior they're really trying to incent – it seems most logical that whole building assessments should be agnostic about renewable vs. energy efficiency and more prescriptive on just making buildings more sustainable.