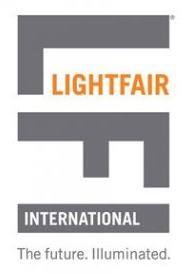 Between meetings with a few Groom Energy customers and partners, Bob, Fritz and I had the chance to walk the Javits Center/NYC for Lightfair the last few days. Lightfair is the US's annual lighting show which hosts loads of lighting designers, architects, vendors, engineers and folks looking for free trinkets – the show alternates between NYC and Las Vegas each May so this year our commute from Boston and Chicago was a little easier. A couple thoughts and observations…..
The venue: As you walk into Javits you cannot help but reach for your sunglasses – and start the mental calculations of the amount of KWH this place is consuming during the three day exhibit hall event! Everything is lit to the max.
Induction lighting: Two years ago we were curious to see whether Induction lamps were going to be highlighted by the large manufacturers, especially Philips with their QL lamp – turns out that they weren't and we found only one or two vendors showing off an induction lamp based fixture. The same was true last year. This year we did find a few more vendors, all of whom had their own retrofit variation for a traditional lighting fixture – but since induction lamp volumes are still not coming, the writing is on the wall for these long lasting high priced lamps as alternatives to the traditional HIF lamps because LED's HAVE ARRIVED!!!!!
LED's – then: At Lightfair 2007 LED's were, as a friend calls them, still "blinky blinky" – handful's of vendors were showing off their fun, colored architectural enhancements for electric signage and discoteque walls. Leading innovators like Color Kinetics were displaying one of their first white light general illumination products – an undercabinet light. Lightfair 2008 was a coming out party for LED's, with a bunch more new white light LED only start up vendors and Chinatown (the regular sub section of the exhibit hall with tons of small manufacturers who can make anything quickly and cheaply) showing blinky blinky in volume. No traditional large fixture vendors like Cooper or Acuity had LED's highlighted in their booths.
LED's – 2009: Wow, how the world changed in two years. White light LED applications were everywhere this year – from downlights to 2 x 2 office to wall packs to parking garage to cobra heads – everyone had their own adaptation of a white light LED fixture. Consolidation has already begun, with Philips having acquired and integrated Color Kinetics since 2007, CREE acquiring LLF in 2008 and more recently Cooper acquiring IMS just a few months ago. The new products on display are seriously constrained by the price performance challenge – as a consequence, these new fixtures are designed to produce LESS light than the fixtures they would be replacing – manufacturers either do not admit this or they describe their modular designs which will grow into the LED performance curve.
We also had the chance to catch up over breakfast with Mark McClear of CREE and test his observations about the expected price/performance curve over the coming months. If, as he suggests, next year's show will have LED based fixtures using 135 lumens/watt with a 10% decrease in price for the same chip, get ready for REAL acceleration of adoption. These products will be able to produce sufficient light output with a reasonable cost and will show faster return on investment for C&I managers looking to cut their wattage consumption.
The C&I lighting fixture world has clearly been divided into two types of players – believers, who are hiring, building, learning with the first designs for these "computer" lights based on integrating LED's, extruded metal heat sinks, complex optics and solid state power supplies and non-believers, who are betting that their businesses, which relies on creative metal shapes wrapped around standard lamps and ballasts from Sylvania, Philips and GE will survive the new entrant LED challenge.
We'll be capturing more of these thoughts in our upcoming LED webinar on May 21st as well…