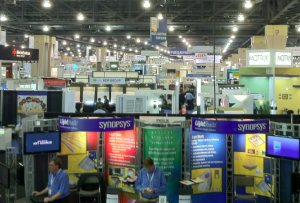 Everyone knew Lightfair 2011 was going to be all about LEDs.
LED's had their coming out party at Lightfair 2009. Back then fluorescents still dominated, but white LEDs showed up in "soon to be released" form, providing excitement to an industry that hadn't seen real technical change in 30 years.
Lightfair 2010 became LEDfair, with new product introductions covering every category and the largest vendors marketing LEDs front and center, ahead of their traditional products.
At Lightfair 2011 we witnessed LED 2.0.
Attendees now speak LM79 and LM80. Real customer case studies are more plentiful. Chips have 30% higher performance. Second generation products with the latest chips have replaced last year's first and worst designs, correcting mistakes based on another year of selling….and learning….and redesigning….and retooling…..and re-introducing.
On the technology front some newer controversial approaches are appearing.
By moving the phosphor away from the surface of chip, remote phosphor designs claims 10% added efficiency. Philips thinks this can work, as does Intermatix – but the approach uses blue LEDs with a specific wavelength range – and those chips only come from Philips and CREE. Luminus Devices and Bridgelux are betting on bigger chips for higher performance while CREE has introduced a smaller, more specialized chip package which reaches high performance levels for specific fixture form factors, first implemented in their recent MR16 lamp. And Lighting Science Group, Switch (formerly Superbulb) and Liquidleds have all bet they can address the LED heat dissipation problem by adding fluid to the cavity around the LED chip.
While last week's LSG announcement with Google caught people's attention, the power of the networked LED system is now well marketed by companies like Redwood Systems, Daintree Networks and our friends at Digital Lumens.
In our Enterprise LED Research Report published last year we profiled 50 credible vendors and listed 250+ in our running database. With all of this week's new product introductions both of those lists will be growing.
Last year the newest LED products had both high $ pricing and low performance vs. existing light sources. This year performance has advanced by 30%, but fixture prices still have an initial cost which is 50 – 100% more than the traditional lamp sources. Prices for chips are obviously expected to continue to come down with Philips predicting a 50% drop for their A lamp in the next five years.
So while its more clear that eventually LEDs can cost-effectively replace every type of lighting fixture, vendors must now combat customer perception. Even though utility rebates are high and likely to go down and the LED is only 30-50% of the bill of materials, customer's may just decide that if products have made so much progress since last year, why not just wait for LED 2.1 when the math gets better?