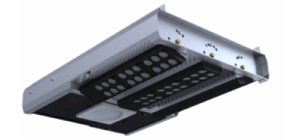 In 2006 Groom Energy engineers began testing the latest general illumination LED fixtures with our early adopter customers. Our demonstrations proved that these products were still too expensive, couldn't produce enough foot-candles and had no track record to support their 100,000 hour operating life claims. More importantly, none of the them took advantage of what LEDs do best – intelligent control.
These early LED systems, designed by traditional HIF/HID lighting engineers, were burdened with bad design DNA. Their designers literally shape reflective metal around lamps and ballasts from GE, Philips and Sylvania, not layout circuit boards for a solid state lighting systems. Even the most basic HIF/HID control features need to come from third party companies.
High performance, intelligent LED systems require an interdisciplinary design team who can optimize the entire system, simultaneously considering optics, thermal, mechanics, power and control. It's more like designing a computer than metal bending. No team like that existed.
So in 2007 Groom Energy set out to do this ourselves.
We recruited a small world class team into a separate company, initially calling it GroomLED, co-locating the team in our Salem office (later we renamed it Digital Lumens.) Our goal was to develop LED based lighting systems for high wattage applications in our customer's commercial and industrial environments. We took the DL team on the road with our customers, confirming product requirements with each of them.
Our friends at Flybridge Capital took the risk with us, providing the initial seed capital in order to test the company idea. Since then the press has unconfirmed reports noting two follow-on DL venture capital fundings, one with Flybridge and Stata Ventures in May 2009 and a second with Black Coral Capital in December 2009.
Although DL continues to operate in stealth mode, we were excited this past week when DL was awarded a prize at a Next Generation Luminaires Solid State Lighting Design Competition, jointly sponsored by the Department of Energy SLL Lab , IESNA and IALD.
Stay tuned – there will be more DL announcements over the coming months, but at this point we wanted to give props to DL and answer the inbound questions we've been receiving…