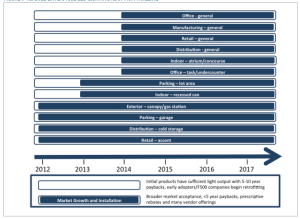 Tomorrow we're announcing the publication of our research report Enterprise LED Lighting, distributed with our partners at GreentechMedia.
As we did with our Enterprise Carbon Accounting research we conducted interviews with all the relevant players in the emerging industry – in this case it included DOE engineers, utility managers, vendors, and most importantly, our commercial and industrial customers.
The need for this report became apparent as we were launching Digital Lumens, a spin out company from Groom Energy who announced their business this past May. At the time it was clear the commercial and industrial LED market was going to surge over the coming years and there was very limited market data studying customer's needs relative to the newest products being introduced.
Once we started building the report it became clear we could answer some important questions:
Market: How big is the market today and how fast is it growing?
Applications: which applications are best suited for LEDs today versus in the future?
Customers: why are early customers buying products today and what are they learning?
Technology: How are LED systems designed? What are the key technical challenges?
The Vendors: Who are the players in the market and which products are they offering? (this we addressed through our LED Market Players Guide profiling 50+ vendors)
The key drivers for market growth we identified were:
Recent LED chip performance advancements which allow more cost effective
designs for replacing existing lighting systems;
Newly introduced utility energy efficiency financial incentives for converting to
these LED-based systems;
Increased interest from building owners in applying sustainably oriented lighting
retrofits that save money for their operations.
The study took longer to complete than we originally anticipated – partly because we underestimated the amount of work – and partly because things in the LED market have been changing so quickly, even while we were compiling our research.
By 2009 we'd compiled a list of @ 100 vendors who were shipping commercial and industrial general illumination LED fixtures – today our list is at 250+ and still going (and more will come out of the woodwork now that we've published our list.) When we started there were only "custom" utility rebates and virtually no prescriptive rebates for LED based retrofits. Today, many of the leading utilities have prescriptive schedules for LED PAR, MR, High Bay and Low Bay upgrades. Meaning the customer market is accelerating and this is driving the utilities to react.
So, I'm assuming by next week we'll already be developing our first update to the report 🙂