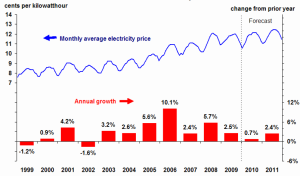 Recently a customer had us model the energy production and financial return for a new 2MW cogen system at their manufacturing site in the United Kingdom.
Our analysis considered their contract cost for kWh and natural gas, the system's energy production in kWh and therms, its full installation and annual maintenance cost and their UK tax benefits, including a reduced carbon tax from the UK's Carbon Reduction Commitment. All in, the capital investment had a simple payback of 2.3 years.
When we built the system's 10 year PPA model there was one big question – what escalation rate for kWh and gas should we use?